Moving Help
Were you planning to tackle an upcoming move on your own, only to discover that certain items are just too heavy or fragile for you to take the DIY route? Chase Moving and Storage is standing by to take your call. Our packers and movers are available to step in at any point in your move. We can provide moving help whether you're just getting started and realize it's too much to handle on your own, you need help unloading a rented truck, or you've already moved everything but your fridge and your grand piano. We do local moves, long-distance moves, and even international moves both to and from the Burlington area. We can also provide moving labor if you're renovating or reorganizing your existing space and have items you can't move on your own. We're your one-stop-shop for moving assistance in Burlington. Call today to learn more!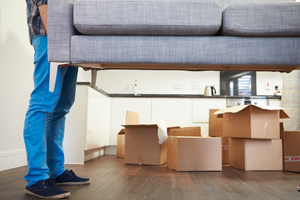 Our movers and packers can carefully and safely move items including:
Shelving
Dishes
Furniture
Appliances
Books
Artwork
Musical instruments
And more!
We offer moving labor for both residential and commercial spaces. Are you rearranging the cubicles and desks in your office? We'll send a moving helper to speed the job along. Have you decided that hiring packers and movers is the best way to ensure that your valuable possessions reach your new home in one piece? We'll be there for you, even in an emergency scenario. We offer expert moving and packing services, with a quick turnaround when you need one.
Chase Moving and Storage is a licensed, bonded, and insured moving helper. We're affiliated with the American Moving & Storage Association and the Lake Champlain Chamber of Commerce. Our packers, movers, and other pros are certified and background checked, and many of them have more than 20 years of experience on the job. Because we guarantee our work and provide comprehensive insurance, including a formal claims process, you can breathe easy knowing your belongings are in good hands. Call now to get a free estimate for the moving and packing services you're seeking!
Furniture Moving Help
Not all moving helpers are available for small jobs, like in-home or in-office furniture relocations. Chase Moving and Storage is the company to call if you live or work in the Burlington area and need someone to do the heavy lifting for you. Carrying furniture can be exhausting and potentially lead to injuries if you aren't trained in proper procedures. You're also putting your furniture and surrounding surfaces at risk of damage by attempting a DIY move. Our movers and packers will protect your property as well as your health, getting the job done more quickly than you'd be able to do on your own. Call today for more information. 
packers and movers
moving labor
moving helper