Commercial Storage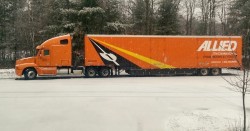 Maintaining a business can mean accumulating a lot of equipment, furniture, and documents. If you've run out of space to store your business items on site, contact Chase Moving and Storage to discuss our commercial storage services. Do you need commercial storage as part of a move to a new office building? Are you interested in secure document storage in order to maintain all of your company's important records? Chase Moving and Storage is standing by to take your call. We offer commercial and industrial storage containers that will protect and secure items that are vital to the success of your business. We pride ourselves on providing you with secure commercial storage containers that are resistant to potential threats. Give us a call today to get a free cost estimate for one of our commercial storage units, and to learn more about what makes us one of Burlington's preferred storage companies!
Chase Moving and Storage is a comprehensive commercial storage and moving business. In addition to commercial storage rental, we offer packing, unpacking, and transport services. You won't have to lift a finger to enjoy secure business or office storage. Every member of our team has experience with responsible packing, storage, and shipment to ensure that no damage to your property is incurred.
In addition to providing you with clean, secure commercial and industrial storage containers, we'll give you access to:
Climate-controlled storage conditions
Secure document storage
Long-term storage
Short-term storage
Quality packing materials
And more
We're licensed, bonded, and insured for commercial storage services. Our personnel are certified and background checked. As a business, we're affiliated with the American Moving & Storage Association and the Lake Champlain Chamber of Commerce. When you come to Chase Moving and Storage seeking a restaurant, retail store, or office storage container, you can breathe easy knowing you're putting your property in a safe and secure environment. 
Experienced Commercial Storage 

Rental

Chase Moving and Storage has been serving Burlington and beyond since 1908, and many of our current team members have more than 20 years of experience in our industry. That experience makes us a reliable choice for safekeeping equipment, documents, and more. We always remember that your property is important and, many times, irreplaceable. We're dedicated to safeguarding your items and respecting them as if they were our own.

From confidential document storage to office equipment storage, we have commercial storage containers that are right for your needs. Our professional services are designed to keep all of your possessions safe from harm. For more information on all of our storage options, call to speak with one of our professionals today! 
Office Storage
Storage Companies
Document Storage